UNICS grabs bronze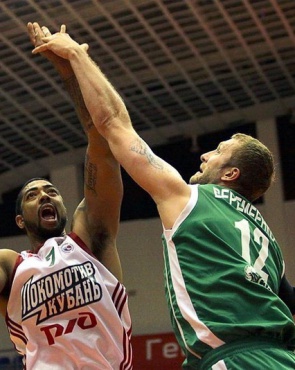 Photo: Yaroslav Pokunevich.
14 june 2011
Text: BEKO PBL Press service
UNICS Kazan beats Lokomotiv 77:70 in the third game of their best-of-5 series to finish the play-offs in third place.
One of the pre-season favorites UNICS did finish their 2010/2011 on a high. After a disappointing semi-final series with Khimki, where the Kazan side let a 2:0 lead slip away, Evgeny Pashutin's men managed to re-group and sweep Loko in the 3rd place series.

Game 3 of the series was held in Krasnodar but UNICS just never felt as a visiting side. They took an early lead in the first quarter and were in control throughout the match. The home side did cut the gap to 3 points late in the final quarter. But UNICS kept their composure to get a vital W.

Regular season MVP Maciej Lampe was the highest-scoring player of the night with 26 points, adding 13 rebounds to his usual double-double performance. American point guard Lionel Chalmers scored 19 for Loko.

Meanwhile, the surprise packages of the season Nizhny Novgorod has pulled another big result thrashing Enisey at home 95 to 68. The victory allowed NN to finish the season in 5th place – a fantastic result for the young team. Ivan Paunic made the biggest impact for the home side with 21 points.

Elsewhere, the 7th place series is still underway after Krasnye Krylya tied it at 1-each at home to Spartak. The Samara team were 101 to 90 winners, despite 27 points from Spartak point guard Patrick Beverley. The decisive third game of this series will take place on Friday 17th in Saint-Petersburg.