Loko stop Triumph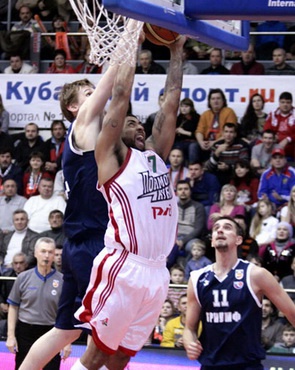 Photo: Yaroslav Pokunevich.
6 february 2011
Text: PBL Press service
Lokomotiv-Kuban outscored Triumph 84:63 in the BEKO PBL Championship Round 12 on Sunday and thereby finished Moscow region's club two victories series.
Mike Wilkinson and Jeremiah Massey scored 14 points each for Lokomotiv. Valery Likhodey and Egor Vialtsev made a double-double each but it wasn't enough for the victory. Likhodey scored 25 points and made 11 rebounds, while Vialtsev made 17 points and 10 assists in the losing effort.

Despite of loss, Triumph came on a new level in last three games in which Spartak and Khimki was defeated. Next game Triumph will play against Enisey at home.