Lampe won the BEKO PBL MVP of the Round 24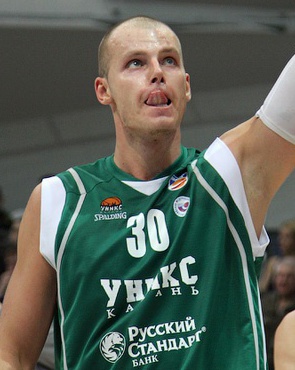 Photo: Anna Astahova.
8 may 2011
Text: BEKO PBL Press service
Maciej Lampe made a fantastic result in the game against Spartak. UNICS center scored 33 points – his own record in the BEKO PBL – and made 14 rebounds. This and also 1 assist, 1 blocked shot and 2 dunks helped him to gain the BEKO PBL MVP of the Round 24 with 42 rating points.
It is the second result in the League after 45 rating points, which was made by his teammate Terrell Lyday. Moreover he became the fifth player who gained BEKO PBL Round MVP Title twice.

The second place belongs to Kresimir Loncar who also made performed great in the game against Triumph. Khimki center scored 33 points with 12 of 13 two-pointers, made 7 rebounds, 3 steals and 1 assist, also he made opponent players 8 times commit fouls on him. His rating is 41.

Krasnye Krylya playmaker Ernest Bremer is the third. 22 points, 9 assists, 3 steals and 2 rebounds he made helped his team to outscore Nizhniy Novgorod. Also 6 times he made opponent players to commit fouls on him. His rating is 37.

Spartak guard Henry Domercant scored 26 points, made 5 steals, 4 rebounds, 2 assists and opponents made 9 fouls on him. He is the fourth with 31 rating points.

Enisey guard Andrey Komarovskiy is the fifth. He scored 17 points against Dynamo, made 8 rebounds, 4 assists, 1 steal and opponents made 7 fouls on him. His rating is 30.

Symbolic five. Round 24.

Ernest Bremer (Krasnye Krylya) – Henry Domercant (Spartak) – Andrey Komarovskiy (Enisey) – Maciej Lampe (UNICS) – Kresimir Loncar (Khimki).