CSKA thrash Loko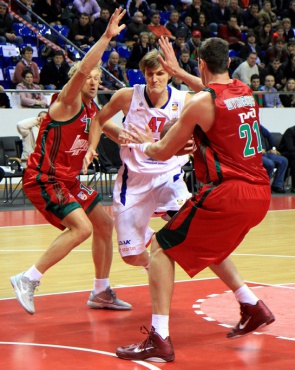 Photo: Sergey Apenkin.
28 january 2012
Text: BEKO PBL Press service
CSKA didn't need an excellent performance from Andrei Kirilenko who had 7 points and 7 boards as they left no chance for Lokomotiv-Kuban on the road. The Army men looked poor on the defensive end of the court in the first half, but allow Loko to score only 15 points after the big break and went on to get its 8th win of the regular season. CSKA outrebounded Lokomotiv 40-22.
Aleksey Shved score 15 points for CSKA leading them to the victory. Aleksander Kaun had 12, all scored in the first quarter. Victor Khryapa also had 12 and helped his side with 7 boards.
KC Rivers was the scorer of the night for Loko with 16 points.