Karasev won the BEKO PBL MVP of the Round 25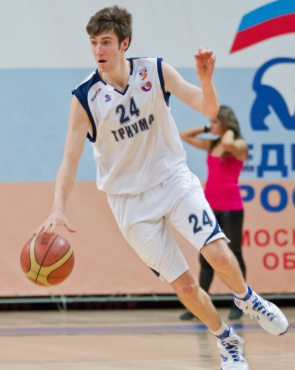 Photo: Eugeny Solodov.
14 may 2011
Text: BEKO PBL Press service
17-years Sergey Karasev won the BEKO PBL MVP Round 25 title. Karasev who is declared as Triumph-2 player in the League scored 34 points with 6 of seven three-pointers and gained the fifth place in the BEKO PBL one game scoring rating. The son of the famous in Russia basketball player Vasily Karasev performed his best skills in the game against Dynamo. His own scoring record was 28 points, which he made in the BEKO U-21 Championship.
Also Karasev made 6 rebounds, 3 assists, 1 steal and 10 times made opponent players commit fouls on him with only 1 foul and 1 turnover. His rating is 43 – the second place after Terrell Lyday. Karasev became the youngest player in the season who earned Round MVP title.

UNICS center Maciej Lampe gained the second place in the rating with 23 points (13 of 14 one-pointers), 8 rebounds, 1 assist, 1 steal, 1 dunk, 8 opponents fouls, 2 fouls and 0 turnovers which is equal to 36 rating points.

Terrell Lyday is the third with 27 points, 6 rebounds, 4 assists, 1 steal with only one turnover. His rating is 33.

Fourth place divided between Enisey center Lonnie Baxter and Triumph playmaker Tywain McKee. Both players made 32 rating points.

Lonnie Baxter scored 26 points, made 9 rebounds, 3 blocked shots, 2 steals and 3 dunks. McKee scored 29 points, made 8 rebounds, 3 assists, 1 steal and 7 opponent's fouls.

Symbolic five. Round 25.

Tywain McKee (Triumph) – Terrell Lyday (UNICS) – Sergey Karasev (Triumph) – Maciej Lampe (UNICS) – Lonnie Baxter (Enisey).