CSKA beats Lokomotiv-Kuban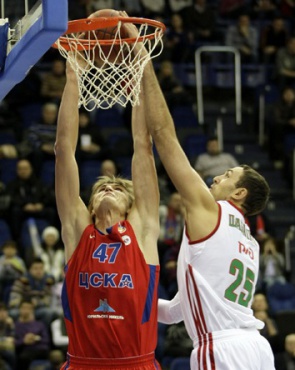 Photo: Mikhail Serbin.
11 february 2012
Text: BEKO PBL Press service
CSKA Moscow bounced back from mid-week Euroleague loss to overcome Lokomotiv-Kuban in BEKO PBL 87:70. The Army Men mad a great run in the second quarter winning it 24:12 and basicly putting the result of the game beyond doubt. CSKA remains top of the standings with just one loss in 10 games.
Despite playing just under 19 minutes, Andrei Kirilenko was the MVP of the match with 13 points (perfect 6/6 shooting), including 3 dunks, and 6 rebounds. Viktor Khryapa is recovering from a finger injury allowing Andrey Vorontsevich to get a little bit more of playing time. Vorontsevich had 11 points and 8 boards.
K.C. Reivers had 14 points for Lokomotiv, which is now 5-5.