Triumph in Kazan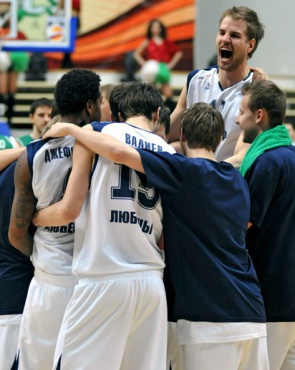 Photo: Aleksandr Aleksandrov.
4 march 2012
Text: BEKO PBL Press service
BC Triumph has increased its chances to make the semis of the BEKO PBL championship significantly after beating UNICS in Kazan 76:73. The visitors were down by 6 after the first half, but it was the third quarter that became crucial. Triumph managed to hold UNICS to just 6 points and won it 21-6. The game went to an exciting end, but the Moscow region side kept the lead and Sergey Karasev made all the decisive free throws.
Karasev eventually finished the game with 11 points, while Kyle Landry was the top scorer for Triumph with 17 points and 9 rebounds. Davon Jefferson and Artem Kuzyakin had 12 each.
Kelly McCarty scored 24 points including 16 in the opening quarter, but that didn't help side. UNICS leader Henry Domercant was held to 3 points.