Zoran Planinic leads Khimki to victory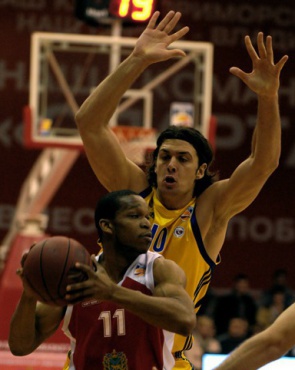 Photo: Igor Guryanov.
3 march 2012
Text: BEKO PBL Press service
Zoran Planinic shined in Khimki's tough road victory over Spartak Primorie. The Croat had 20 points, 9 asissts and 8 rebounds. Just like usually Primorie came out as a strongly determined team, and they lead by as many as 9 points in the 1st half. But after the big break the visitors managed to alter the course of the game and win it by 9 points.
Planinic's fellow Croatin Kresimir Loncar also had 20 points, adding 4 rebound. Vitaly Fridzon scored 18 points in 34 minutes on the court.
Torey Thomas was the highest scorer in the losing side with 17 points, he also dished 7 asissts to his partners.