Jonas Kazlauskas - coach of the year!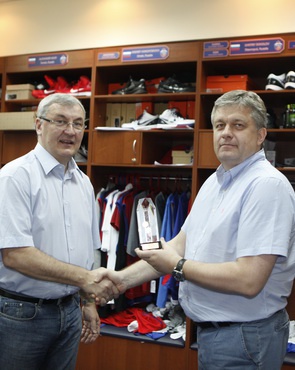 Photo: M. Serbin.
21 may 2012
Text: BEKO PBL Press service
BEKO PBL has named Jonas Kazlauskas the League's coach of 2011/2012 season. The award was presented to the coach by BEKO PBL General director Ginas Rutkauskas.
Kazlauskas joined CSKA in February of 2011, when the club was in crisis. He then led CSKA to their first BEKO PBL title, improving the chemistry in the team.
This season the Army Men played 23 games under the Lithunian specialist and won 22 of them. Kazlauskas deservedly won this award.
Jonas Kazlauskas, CSKA head coach:
It's a great pleasure to win this award, but I always thought this kind of prize is mostly a team's merit. There is plenty of good coaches here in Russia, so for me it's a big honor to be marked by the League.