CSKA takes polepostion.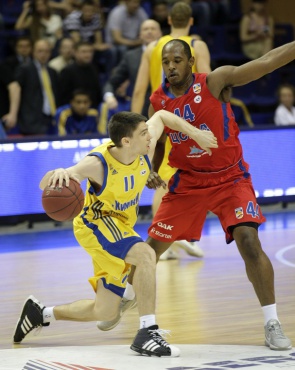 Photo: Mikhail Serbin.
16 may 2012
Text: BEKO PBL Press service
CSKA Moscow has taken 1-0 lead in the best-of-5 BEKO PBL finals series. The Army Men got a great victory 81:62 mainly courtesy of their second unit. Andrei Kirilenko spained his ankle in the 3rd quarter and hasn't played since. Game 2 to take place in Moscow on Thursday.
Jamont Gordon was the key in this win for CSKA with 16 points and 6 assists in 21 minutes. Darius Lavrinovic scored 14 points.
Vitaly Fridzon scored 22 points for Khimki.