Loko thrashes Triumph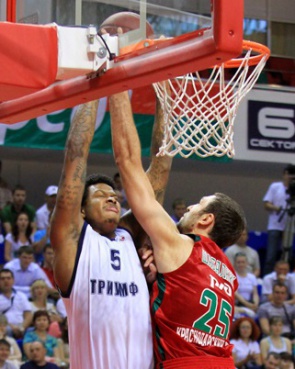 Photo: Sergey Apenkin.
18 may 2012
Text: BEKO PBL Press service
Lokomotiv-Kuban thrashed Triumph in the 3rd game of the best-of-5 series for the 3rd place 104:61. The Krasnodar side is now one step away from taking bronze medals. Game 4 to take place on 19th of May in Krasnodar.
Nikita Shabalkin scored 20 points for Lokomotiv. Maksim Sheleketo scored 18 points and grabbed 7 rebounds.
Artem Kuzyakin was the top scorer for Triumph with 13.