Triumph in 4th and has game in hand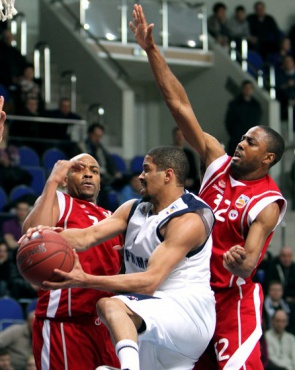 Photo: Anna Astahova.
28 march 2012
Text: BEKO PBL Press service
Triumph came out with a hard-fought overtime victory over Krasnye Krylya on Wednesday 96-91. The Moscow Region side were in full control entering the final quarter with a 16-point lead. But they couldn't score in the opening 5 minutes of this period and Krylya took full advantage. The game went into in overtime, where the hosts managed to maintain composure and grab this vital victory. They have increased their chances to make it into Top 4 of the BEKO PBL championship.
Sergey Karasev was the key to Triumph's success, the youngster scoring 26 points in over 40 minutes and adding 9 rebounds to his impressive record in this game. Davon Jefferson and Tywain McKee scored 19 points each.
Just like usually Brion Rush was the top scorer for Krylya with 21 points.