Karasev's best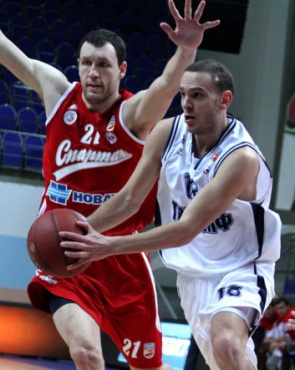 Photo: Anna Astakhova.
25 november 2012
Text: PBL Press service
In the PBL Championship game, held in Lyubertsy on Sunday, November 25, 2012 BC Triumph hosted BC Spartak St Petersburg and won in a bitter struggle. The decisive throw was done by Sergey Karasev before 0.2 seconds to the buzzer. Karasev turned to be the best scorer of the match: 18 points. Now Triumph has 3 wins and 3 losses in PBL standings and ranks at six place. Spartak has a 4-3 record and occupies fifth place.
PBL Championship. November 25, 2012. Lyubertsy
BC Triumph - BC Spartak St Petersburg - (20:14, 12:26, 13:8, 19:14)
BC Triumph: Karasev (18 + 5 rebounds + 3 assists), Mitchell (14), McKee (12), Searcy (7 + 6 rebounds), Landry (5 + 7 rebounds), Valiev (3), Lazarev (3), Polokhin (2)
BC Spartak: Mavrokefalides (11 + 7 rebounds), Carter (11 + 5 rebounds), Beverley (10 + 3 assists), Wright (9 + 4 rebounds + 3 assists), Zavoruev (8 + 5 rebounds), Kurbanov (5), Dragicevic (4), Dmitriev (2 + 3 rebounds), Yakovenko (2)