Khimki's lit up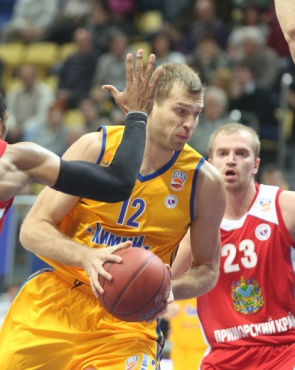 Photo: Evgeny Solodov.
26 november 2012
Text: PBL Press service
On Monday, November 26, 2012 BC Khimki Moscow Region at its home court hosted BC Spartak-Primorye and scored a very confident victory. First half was equal, after the BC Khimki run 7-0 Primorye recovered and made a return spurt. Nevertheless after a big break Kurtinaitis's squad took a lead and didn't relax till the end of the game. As a result - a deserved win. Fridzon scored 17 points, Rivers - 16 and 6 rebounds. In BC Spartak-Primorye Efevberha added 21 points.
PBL Championship. November 26, 2012. Khimki
BC Khimki - BC Spartak-Primorye - (13:18, 26:10, 23:20, 33:22)
BC Khimki: Fridzon (17), Rivers (16 + 6 rebounds), Vyaltsev (14), Zhukanenko (12), Planinic (11 + 5 assists)
Spartak-Primorye: Efevberha (21 + 4 rebounds), Delaney (19 + 5 rebounds), Durovtsev (10 + 6 rebounds), Zabelin (10)