Best on the road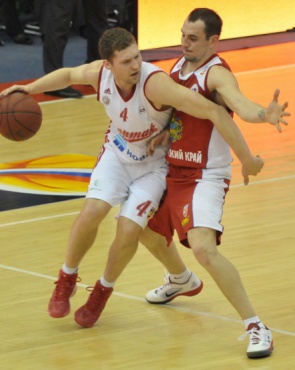 Photo: Igor Guryanov.
19 december 2012
Text: BEKO PBL Press service
On Wednesday, December 19, 2012 within the bounds of PBL championship BC Spartak-Primorye hosted BC Spartak St Petersburg and lost with the score 60:77. From the beginning of the meeting the Jure Zdovc's team took the lead and didn't allow the opponent to make a comeback. Even in the third quarter when the gap between the teams was only 3 points. So the overall success was at the side of BC Spartak St Petersburg. Patrick Beverley scored 14 points, Vladimir Dragicevic - 12, in Spartak-Primorye Troy Gillenwater added 19 points and 7 rebounds, Artem Zabelin - 14 points.
PBL championship. December 19, 2012. Vladivostok
Spartak-Primorye - BC Spartak St Petersburg - (12:21, 16:19, 18:16, 14:21)
Spartak-Primorye: Gillenwater (19 + 7 rebounds), Zabelin (14), Efevberha (11 + 6 rebounds)
Spartak St Petersburg: Beverley (14), Dragicevic (12 + 4 rebounds), Zavoruev (10 + 5 rebounds)