Yellow-blue success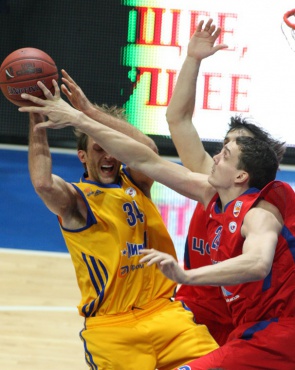 Photo: Evgeny Solodov.
20 december 2012
Text: PBL Press service
On Thursday, December 20, 2012 BC Khimki Moscow Region within the bounds of PBL championship hosted CSKA Moscow - it was the central game of the month. The equal game was until the last quarter but in the very end BC Khimki due to the Planinic's efford made a huge spurt 6-0 and eventually succeeded. Two unbelievable triples of Teodosic at last second didn't change the situation - Fridzon scored all 6 free throws. So the Moscow team suffered first defeat in PBL, as for BC Khimki it continued the unbeaten home series of 14 victories. Monya, Khryapa and Krstic made double-doubles.
PBL championship. December 20, 2012. Khimki
BC Khimki - CSKA Moscow - (20:22, 12:12, 19:19, 24:14)
BC Khimki: Planinic (20 + 6 assists + 5 rebounds), Fridzon (16), Davis (13), Monya (12 + 12 rebounds)
CSKA: Krstic (17 + 10 rebounds), Teodosic (17 + 6 assists), Weems (17), Khryapa (11 + 12 rebounds)