Without intrigue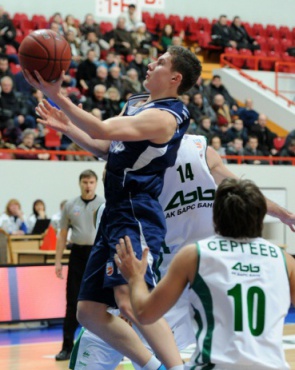 Photo: Alexander Alexandrov.
21 december 2012
Text: BEKO PBL Press service
On Friday, December 21, 2012 UNICS Kazan within the bounds of PBL championship hosted BC Triumph Lyubertsy and scored a very confident victory. From the very beginning the home team took the lead and didn't allow BC Triumph to show its best. Guests' leaders Tywain McKee and Kyle Landry because of injuries didn't take part in the game. In UNICS Kazan Kaimakoglou scored 19 points, in BC Triumph Sergey Karasev added 22 points and 5 assists to become the best player of the Moscow Region team.
PBL championship. December 21, 2012. Kazan
UNICS - BC Triumph - (17:11, 32:24, 20:15, 24:18)
UNICS: Kaimakoglou (19), Vougioukas (18 + 5 rebounds), Wilkinson (15 + 10 rebounds), Eidson (12 + 5 assists)
Triumph: Karasev (22 + 5 assists), Searcy (15 + 10 rebounds)