Victory at last seconds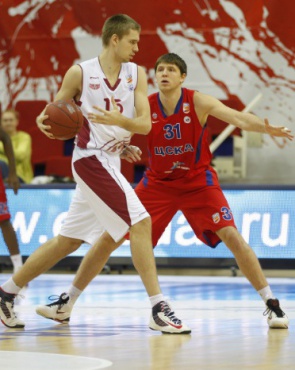 Photo: Mikhail Serbin.
23 december 2012
Text: PBL Press service
In PBL championship CSKA Moscow won in the very end in the game with BC Krasnye Krylia Samara due to three-pointer of Milos Teodosic. The game was equal but eventually the experience of Messina's team became the crucial factor in the battle. Nenad Krstic scored 20 points, Victor Khryapa - 12 points and Teodosic - 12 points in CSKA, Chester Simmons added 19 points in BC Krasnye Krylia.
PBL championship. December 23, 2012. Moscow
PBC CSKA Moscow - BC Krasnye Krylia Samara - (22:19, 18:22, 19:17, 16:14)
CSKA: Krstic (20 + 4 rebounds), Khryapa (12 + 8 rebounds + 6 assists), Teodosic (12 + 5 rebounds)
Krasnye Krylia: Simmons (19 + 5 rebounds), Miles (11 + 8 assists), Vasiliev (11)