Unreal fight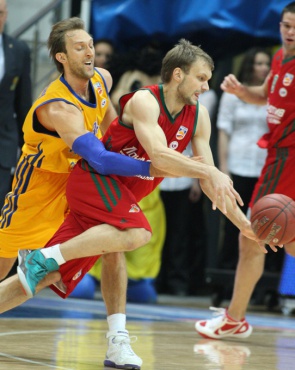 Photo: Evgeny Solodov.
23 december 2012
Text: PBL Press service
In a fantastic and emotional game BC Khimki hosted PBC Lokomotiv-Kuban and won in the overtime - 104:100. Loko played better in the beginning of the match and took the lead 28:19 but then Khimkians recovered and gave fight to the opponent. Eventually everything was determined in the overtime - due to perfect free throws of ex-Loko player K.C. Rivers the home team succeeded. Vitaly Fridzon scored 22 points in BC Khimki, Nick Calathes added 33 points in Lokomotiv-Kuban.
PBL championship. December 23, 2012. Khimki
BC Khimki - PBC Lokomotiv-Kuban - (19:28, 25:18, 19:16, 20:21, 21:17)
Khimki: Fridzon (22), Planinic (20 + 12 assists), Monya (13 + 6 rebounds), Augustine (13), Davis (11 + 8 rebounds)
Lokomotiv: Calathes (33 + 10 assists), Brown (17 + 6 rebounds), Maric (12 + 6 rebounds)