CSKA outscored NN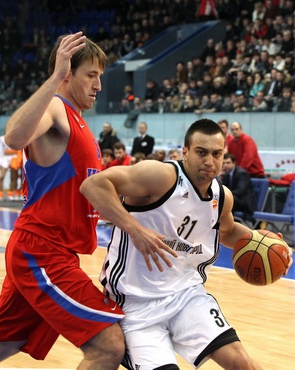 Photo: Gregory Sokolov.
3 january 2011
Text: PBL Press service
BC Nizhny Novgorod was crushed at home by CSKA Moscow 95-60 on Monday.
CSKA Moscow led from the first minutes and controlled entire game increasing their lead in each quarter. The best player for the winners was Slovenian forward Matjaz Smodis who scored 17 points and 6 rebounds.

Since the result was very predictable, it gave the chance for the coaches to test many bench players and allowed the starting five to get some rest. CSKA Moscow has a solid three-game winning streak. Defending champion keeps a position of league leader, which they share with UNICS and Lokomotiv-Kuban.

BC Nizhny Novgorod lost third consecutive game. Newly promoted team stays at the bottom place with six games lost.