UNICS finished the regular in 6th place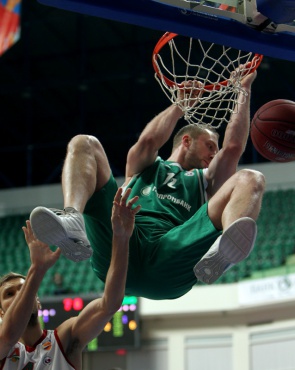 Photo: Roman Kruchinin.
24 april 2012
Text: BEKO PBL Press service
UNICS Kazan outscored Lokomotiv-Kuban Krasnodar by 101:75 in the last regular season game in the BEKO PBL Russian Championship. UNICS finished in 6th place in standings and will play in 5-8 play-offs with Spartak-Primorye. Lokomotiv-Kuban now waiting for the battle CSKA – Khimki, which will determine their opponent in the semi-final of 1-4 play-offs.
Vladimir Veremeenko made the biggest contribution for UNICS with 23 points, 10 rebounds and 40 ranking. Artem Yakovenko scored 15 points and grabbed 10 rebounds.
Lionel Chalmers scored 21 points for Lokomotiv-Kuban.