Carter's best in clutch-time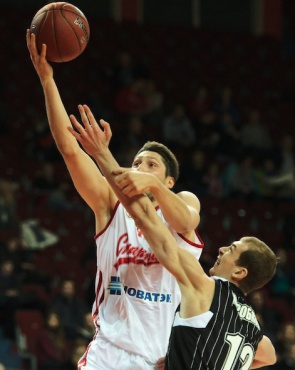 Photo: Roman Yandolin.
23 december 2012
Text: PBL Press service
On December 23, 2012 BC Spartak St Petersburg within the bounds of PBL championship at home faced BC Nizhniy Novgorod. Games between this opponents are always close and interesting. Now everything was decided in the very end of the match: Joshua Carter's triple practically with the buzzer led the home team to a victory. Mavrokefalides scored 11 points, Beverley and Carter - 10 points each in BC Spartak, in Nizhniy Novgorod Brezec added 20 points, Thompson - 15 points and Antonov - 12 points.
PBL championsip. December 23, 2012. St Petersburg
Spartak - Nizhniy Novgorod - (10:22, 17:13, 21:10, 20:22)
Spartak: Mavrokefalides (11 + 5 rebounds), Beverley (10 + 8 assists + 5 rebounds), Carter (10)
Nizhniy Novgorod: Brezec (20), Thompson (15 + 7 rebounds), Antonov (12 + 6 rebounds)