Confident revenge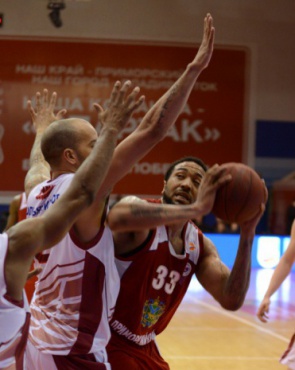 Photo: Igor Guryanov.
28 march 2013
Text: PBL Press service
In a PBL championship game BC Spartak-Primorye at home faced BC Krasnye Krylia from Samara. Equal fight continued till the last quarter where succeeded the home team: due to Oguchi's three triples Primorye scored fifth PBL victory - 84:72. Oguchi - 20 points, Gillenwater - 18, Delaney - 17, Nesterov - 14. In Krasnye Krylia Simmons scored 14 points, Smith and Kolesnikov - in 13 points each, Kulagin added 11 points.
Spartak-Primorye - Krasnye Krylia - 84:72