Enisey outscored Nizhny Novgorod in OT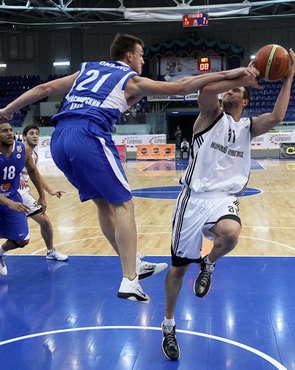 Photo: Sergey Litvak.
18 december 2010
Text: PBL Press service.
Basketball Enisey outscored Nizhny Novgorod in OT 82:77 in the PBL Championship Game 7 on Saturday.
The opening quarter began with NN pressure and finished 25:15 to the locals. Enisey didn't look like the team, who smashed CSKA in the previous game. But in the second quarter Enisey Marcus Williams shook up his team and shorten the backlog to «-5». Second half came in stubborn struggle and finished with two points through of outstanding Marcus Williams, who erupted with 36 points in the game - 71:71. The OT finished with two fouls on Enisey Pavel Sergeev and Marcus Williams, when the score was 78:77 to Enisey. Both of the players didn't miss their troughs.

PBL Championship. Game 7.

Nizhny Novgorod - Enisey - 77:82 (25:15, 14:19, 19:17, 13:20, 6:11).