Sweet revenge for Spartak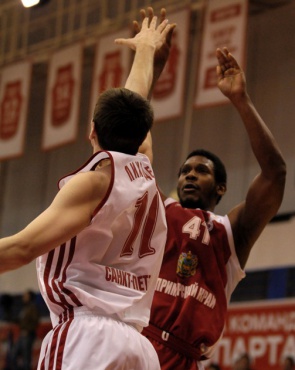 Photo: Igor Guryanov.
11 february 2012
Text: BEKO PBL Press service
Spartak Saint-Petersburg beat their Vladivostok namesakes just two weeks after disappointing home loss to this side in double-overtime thriller at home. The visitors were lacking points from their leader Patrick Beverley early on, as the American had only one 1 point in the first half. But the point guard and Loukas Mavrokefalidis took over after the big break and Spartak won the decisive 3rd quarter with a 10-point margin.
Mavrokefalidis eventually finished the game with 18 points, while Beverley had 13 points and 6 assists. Anatoliy Kashirov had his best BEKO PBL performance with 16 points and 5 boards.
Cuthbert Victor was the top scorer for Primorie with 18, but the home side missed better performance from OTrey Tomas, who had just 9 points and 5 assists.