Triumph takes 1-0 lead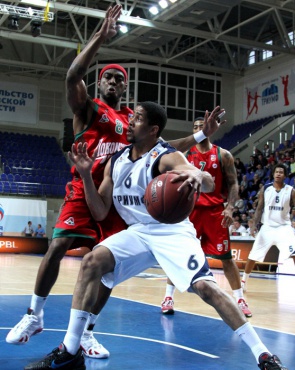 Photo: Anna Astahova.
14 may 2012
Text: BEKO PBL Press service
Triumph is up 1-0 in the 3rd place series after Monday's 91:86 home win over Lokomotiv-Kuban. The home side had a several runs in this game, but Loko always came back courtesy of KC Rivers' 3-pointers. But the American missed the decisive one with 45 second to go in the game when his side was down by 3. Sergey Karasev made a dunk on the break-away and Triumph got this victory.
Tywain McKee was the top scorer for Triumph with 24 points. Davon Jefferson got his usual double-double with 18 points and 11 boards.
Ali Traore was the MVP of the night for Lokomotiv-Kuban with 22 points, Sergey Bykov scored 19.