Patrick Beverley - first round MVP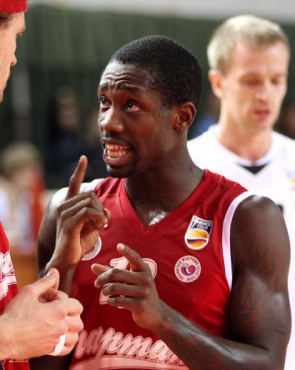 Photo: Igor Gorshkov.
6 february 2012
Text: BEKO PBL Press service
Spartak Saint-Petersburg's point guard Patrick Beverley has been named the MVP of the first round of the BEKO PBL Russian Championships. Torey Thomas, Cuthbert Victor, Davon Jefferson and Viktory Khryapa have completed the best five of the round.
Beverley has the best average index rating in the League, which is just 0.1 better than Davon Jefferson's. The point guard took part in all 9 games of Spartak and 18.6 points a games, 5 assists, 6.2 rebounds and 2.7 steals.
Jefferson has occupied the second spot in the most valuable players' list. He is the key part of the overachieving BC Triumph team. Jefferson is the highest socrer in the League with over 20 points a games and is second rebounds with the result of 8.7. He was voted the author of the best moment of December by the fans.
Torey Thomas has made his name heard during Spartak-Primorie's big wins over Khimki, Spartak and UNICS. He averaged 18.4 points and 4.6 assists in the first round.
There was a place for another Spartak-Primorie player in this symbolic line-up, with Cuthbert Victor taking the small forward spot. He leads the League in rebounds with 9.5 boards and has the index rating of 18.6 per game.
The five would've not been complete without a CSKA Moscow's player, and the top team of the League is represented by captain Viktor Khryapa. Khryapa may have not put any extraordinary numbers during the first round, but he is the key element in the Red Machine, which is aiming to get its second BEKO PBL title this season.