Play-offs participants are now clear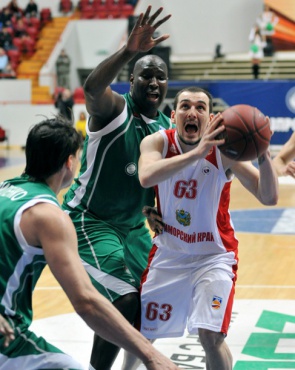 Photo: Aleksandr Aleksandrov.
13 april 2012
Text: BEKO PBL Press service
UNICS Kazan outscored Spartak-Primorye Vladivostok by 81:64 in the BEKO PBL Russian Championship. Spartak-Primorye lost all chances to play in the 1-4 play-offs, as well as UNICS Kazan, Spartak Saint Petersburg and Krasnye Krylya Samara. This 4 teams will play in 5-8 places play-offs. CSKA Moscow, Khimki Moscow Region, Lokomotiv-Kuban Krasnodar and Triumph Lubertsy will play for the medals.
Terrell Lyday made the biggest contribution for UNICS with 19 points, 6 rebounds, 6 assists and 25 ranking. Torey Thomas scored 17 points and grabbed 10 rebounds for Spartak-Primorye.